Handcrafted Garden Furnishings
Our garden furnishings are designed to meet your gathering needs. New Frontiers Home Furnishings has been producing fine quality garden furniture for over 45 years. Our furniture is handcrafted from premium grade clear western red cedar at our location in Alton, Illinois. Our products come sealed with a water sealer and are shipped partially assembled in individual cartons. "Your satisfaction is guaranteed".
GATELEG TABLE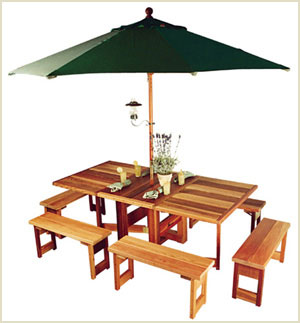 Table & 4 benches with self-storing benches. Open – 78″ x 39″w x 30″ Folded 39″ x 29″ Item # 501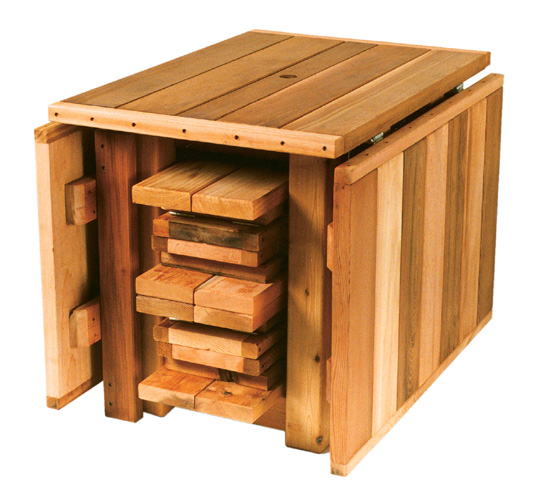 The Gateleg Table is sold as a set with 4 self-storing benches that fold and store under the table. This feature provides space-saving and convenience.
BREWHAUS TABLE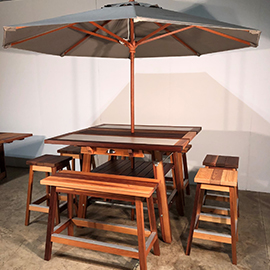 Large Brewhaus Table
Includes table & 2 benches
54″ X 54″
Item #701-LG
Options:
Brewhaus Bench Item #702
Brewhaus Stool Item #703
Brewhaus Cover Item #711-Item #701
Small Brewhaus Table
Includes table & 2 benches
39″ X 54″
Item # 701-SM
CEDAR FOLDING BAR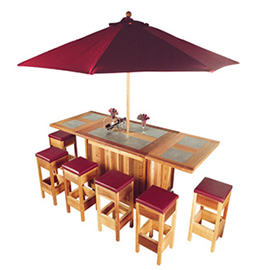 Cedar Folding Bar
Includes bar & 6 self-storing cushioned seat bar stools 96″ X 36″ X 42″
Item # 601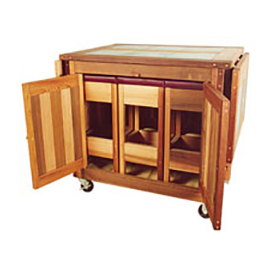 The leaves also fold down (a great space saver). Shown here folded down with all 6 bar stools stored inside.
CEDAR EXTENSION TABLES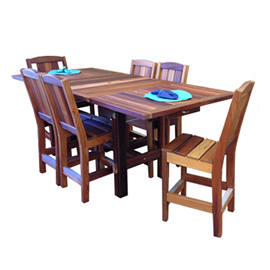 Medium Gathering 36″ High Extension Table – Designed to meet your gathering needs, this table is constructed of clear western red cedar, and built with our signature craftsmanship. Includes table & 6 stools Measures 40″X60″X88″ w/2-14″ self-storing leaves.
Item #521/524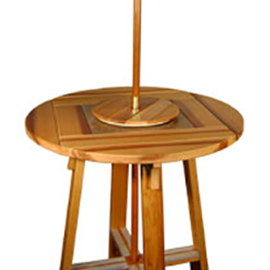 Lazy Susan – 16″ Diameter
Available with or without a hole
Item # 917
Item # 917NH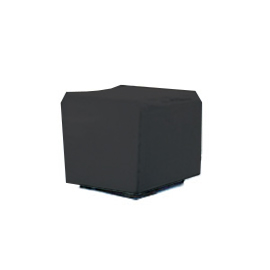 Weather Covers
Item #505 Gateleg $115.00
Item #519 Pub Cover $140.00
Item #525 Ext. Tbl Cover $250.00
Item #611 Bar Cover $140.00
Item #711 Brewhaus $225.00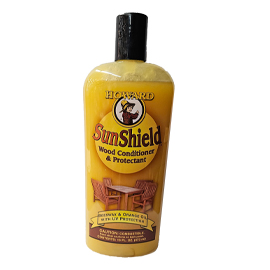 Howards's SunShield – Wood Conditioner & Protectant.
Item # 408
$15.00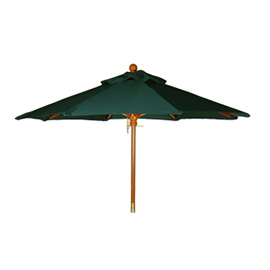 7′ Market Umbrella
Item # 407
REG. PRICE $329.95

9′ Market Umbrella
Item # 409
REG. PRICE $369.95
Care & Finishing Instructions
Our furniture is constructed of solid western red cedar and has been completely submerged in a clear water-sealer at our factory. This provides a moisture barrier and helps reduce splitting and warping. This also ensures an excellent under-seal for a good quality stain or sealer.
An additional finish is recommended for maintenance as follows…
• Always follow manufacturers' directions on the product that you choose to use. When you get your cedar products from us, they may feel oily to the touch. This is the clear sealer that our factory uses. To maintain this beautiful look, we recommend a good quality semi-transparent stain/sealer be applied. When choosing your oil base product, make sure the clean-up requires Mineral Spirits. This will assure you that it is truly an oil-based product. This can be used for applications where the appearance of the grain is desired, allowing the grain to show through while adding some color. This product will provide a sunscreen to help prevent your furniture from "weathering" (turning gray). However, if the "weathered" look is desired, we still recommend the use of a clear water sealer. Furniture that will be exposed to the elements year-round should be treated annually.
A Beeswax product or a good quality paste wax such as Howard's Feed-n-Wax or Howard's Citrus Shield Wax, can be used over any of the above finishes. These products give added water repellency and help prevent the wood from drying out. Use these products in addition to the sealer. This is not a sealer by itself.
Your furniture can also be painted, if so desired, with quality oil-based paint. Two coats are recommended, including the undersides of the furniture.
Helpful Hints:

• Always make sure the furniture is completely dry before applying any sealer.

• Penetration of the product is the key when using any stain or sealer, so always apply liberally, especially to the end grains and let soak in to the point of total absorption.

• Wipe off excess approximately 15 minutes.

• Oily rags can spontaneously combust — PLEASE BE SURE TO DISPOSE OF PROPERLY!
Just ask
Don't see what you need? Let us know!